The Jockey Billboard
This oversized billboard looks out over Broadway and 7th Avenue at about 43rd St.
---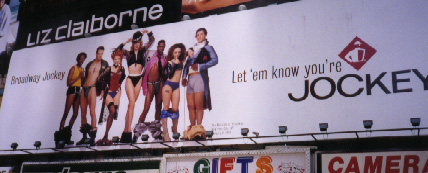 Courtesy of Jim, the people on the billboard are (from left):
Ray King ("Noise/Funk"), Matt Bogart ("Miss Saigon"), Lynette Perry ("Ragtime"), Leigh Zimmerman ("Chicago"), Ken Ard ("Smokey Joe's Cafe"), Marcy Harriell ("RENT"), and Charles West ("The Scarlet Pimpernel").
---
This scan isn't so hot, and the ad was hard (for me anyway) to photograph. So here's just the bit with Marcy, enhanced a bit...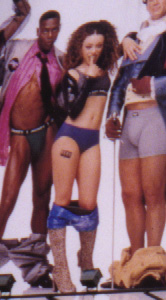 Ooh, she's so naughty!
---