Goodies!
These images ran in Time Out London, in the issue dated May 27 - June 3, 1998
---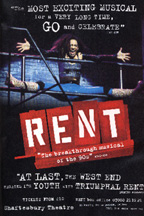 Click to see full size pic - may take a while to load!
---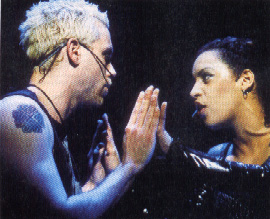 The caption reads, "Rebels with a curse: East Villagers unite against AIDS and high 'Rent' in Jonathan Larson's musical smash. At the Shaftesbury Theatre."
---
The 'blurb' in the Theatre section reads:
The first thing that strikes me about 'Rent' is that it is about now, about trying to hold together with talent and not much money on the streets of New York today. The second thing is that Larson's book contains an extraordinarily complicated plot; one has to stay alert and remain imaginitively involved. The kids in 'Rent' are united against AIDS and a rapacious landlord who wants to clear out the homeless who live on his vacant lot. No doubt if Larson hadn't died just before the show opened, he'd have cut and shaped the material with more finesse. Nevertheless there are some terrific songs, and really engaging performances. The cast's humour, rapport with the audience and emotional commitment to the show's anthem 'No day but today' spikes the occasional lurches into gooey sentimentality. Like 'Hair,' 'Rent' is unlikely to join the musical canon. What matters is that it fires the imagination today. Go and celebrate 'La Vie Boheme' in the style of these dynamic New Yorkers.
---