taye diggs: hitting the big time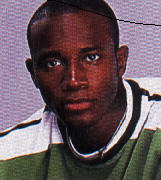 Taye Diggs, aka OBC Benny, was
featured in Entertainment Weekly's
It List issue (6.26.98). Here's what the text said:

Groovemeister: Taye Diggs
Age: 26
Why him? In the blink of an audition,
the former Rent-ster became Angela
Bassett's much-buzzed-about costar
in the adaptation of Terry McMillan's
How Stella Got Her Groove Back,
due in August.
Weirdest career moment: "Doing a
scene with Angela [and] being hit
with the fact that I was standing
across from a movie star. It was
pretty trippy."
Next? The dark comedy GO, Doug
Liman's follow-up to Swingers.







Taye and Angela Bassett heat things up.
Somebody call the Eye Candy Police.

EW 7.31.98
Tod McCarthy's Variety review claims: "Diggs has the widest, brightest smile the screen has seen since Julia Roberts first appeared and is every bit the dreamboat he's meant to be." There's a ringing endorsement!
curiosity: anyone know how taye pronounces his name? as in 'tie me up, taye' or 'taye, you are so tasty'?
(the answer, according to rja, is the latter.)