Some Anthony-related items
---
---

Ant comments on the RENT dramaturgy lawsuit
Ya Think? The Original Unofficial Anthony Rapp Site - A very cool place
Ant featured in the way cool ezine Oasis. Definitely worth visiting.

Ant talks about Dazed and Confused - I just found this, and it's a pretty cool interview, especially if you're a fan of this hilarious film.
Another Anthony Rapp is a real estate agent in Michigan. This is amusing.
Not precisely Ant related, but if you've never seen The Lifecafe Menu, it's guaranteed to crack you up
---
---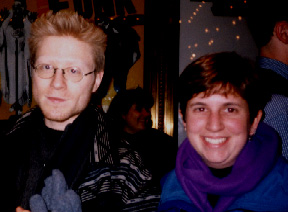 My sister Amy with Anthony at the Shubert Theatre in Chicago, during his run with the Angel Company in January 1998.
Who is paler? Hmm...
---