more images of taye from the eweekly issue dated 8.14.98
the eweekly review gives Stella a C- (bummer).
they describe Taye as "feature-film first timer Taye Diggs, whose calling card is his impeccable smile."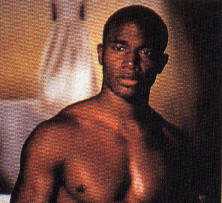 a short article on the movie reports that while Angela Bassett will not be seen with her clothes off in the sex scenes (yes, there are multiple, apparently), "moviegoers will get an eyeful of her male costar." Get out your napkins.